Morning Has Broken Piano
Melody Tutorial
Hi! Welcome to our piano melody tutorial on "morning has broken." This piece was one of my favourite songs when I started learning to play the piano. I must let you know that all my beginner piano students love it too and I am sure that you will.
The key for this song is C major. Remember to play the major scale for the key of any piece of music that you are practicing for the first time. Below are the notes for the C Major Scale.
C Major Scale – C, D, E, F, G, A, B, C
Click here to visit a great lesson on major scales! Learn to use the correct fingers for both left and right hand.
I personally do not want any of my students to be complacent in the key of C. However, as time goes by, this page will be updated showing more piano tutorials of the same song in different keys. So please look for this update. You can subscribe to this website and keep up to date.
Lyrics for Morning-Has-Broken - by Cat Stevens
Morning has broken, like the first morning
Blackbird has spoken, like the first bird
Praise for the singing, praise for the morning
Praise for the springing fresh from the word
Sweet the rain's new fall, sunlit from heaven
Like the first dewfall, on the first grass
Praise for the sweetness of the wet garden
Sprung in completeness where his feet pass
Mine is the sunlight, mine is the morning
Born of the one light, Eden saw play
Praise with elation, praise every morning
God's recreation of the new day
Below is an illustration of the tutorial for this piece. A keyboard diagram with colour coded keys is provided to assist you.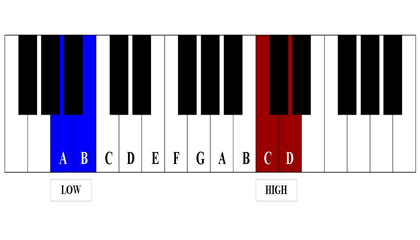 So you love this lesson and I am glad you like it. Take a look at some other lessons prepared for you free of cost on this website.
Leave morning has broken page and return to home page!
Subscribe to receive free piano lessons
E-zines and other updates!