Keyboard Instruments - From Acoustic to Electronic
Which type of keyboard instruments do you prefer to play? Do you love the natural sounds that ring from a piano?
.........Or........
Do you love the variety of sounds that are stored in the bank of an electronic keyboard?
Well, the choice is yours to make.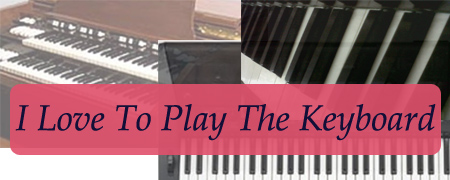 I personally don't have any problems with electronic keyboards even though I still prefer the sound of an acoustic piano. As a matter of fact both instruments play an important role especially in different types of music setting.
Instruments with keyboards are being developed for centuries and have changed in structure, sounds and physical appearance over the years. Even the piano has gone through several changes since the 18th century.
Types of Keyboard Instrument
I am sure that many individuals would think that the piano is among the first types of keyboard instruments that came into existence. But the piano was created modelling the mechanisms of other instruments that preceded it. Some of these instruments are as follows;
- Organ – Used in performances from as early as the 3rd century B.C.
- Clavichord – Used in performances during the 14th century.
- Harpsichord – Also used in performances during the 14th century.
There are several categories of instruments that use a keyboard. However, the three most popular types are classified as cordophones, aerophones and electrophones.
Cordophones (chordophones) are musical instruments that produce sound when stretched strings on a specific instrument are vibrated. It is so called a cordophone because it uses cords or strings to produce sounds. The piano, clavichord and harpsichord are perfect examples of cordophones.
Aerophones are musical instruments that use air to produce sound. One instrument that carries a keyboard that is classified as an aerophone is the pipe organ. The pipe organ drives pressurized air though it pipes via a keyboard. If you want to learn more about the mechanism of the pipe organ, click here.
Electrophones are musical instruments that create sounds by the use of electricity. Modern keyboards such as electronic or digital pianos and synthesizers are perfect examples of electrophones. Electronic keyboards and electric organs were created during the same time period, and are used by keyboard players more often in the 21st century over a piano.
However the piano still remains in a class all by itself and is adored by keyboard players of every genre.
As a piano or keyboard player it is very important that you own a good instrument with sounds of great quality. If you have the money to buy a piano then that is good. But for those persons who are not able to buy a piano, it would be good if you get a full length electronic keyboard with sounds that are pretty close to that of an acoustic instrument such as the piano.
Leave keyboard instruments page and return to home page.
Subscribe to receive free piano lessons
E-zines and other updates!