Chord Chart for Piano Players
Hi! Thank you for visiting our piano chord chart page. I am sure that you have found this page because you are searching for piano lessons online. To be more specific, you are looking for different type of chords that can be played on the piano.
The chords on the chart provided are for beginners, however, students at the intermediate and advance level will find them useful. I am also sure that some piano teachers will use this page as a resource for their piano students.
You are free to print the charts provided so that you can use them during your practice sessions.
But before you start exploring the chords prepared for you on the chord charts below, make sure that you have an understanding of how chords are constructed.
Click here to learn piano chord theory concepts! Learn how they are formed and how to play them on your piano.
Chords create great harmonic sounds in music and you should learn to use them when playing accompaniments. To learn how, please take the time to participate in our lesson on chord progressions.
Click here to view the lesson chord progressions.
All the chords on the chart below are used in most popular musical styles such as hip hop, ballads, reggae, funk, R&B and so on.
The chart below includes four main types of chord that are used in music. They are major, minor, augmented and diminished chords. The chords are done in all twelve keys located on the piano keyboard and they are easy to use.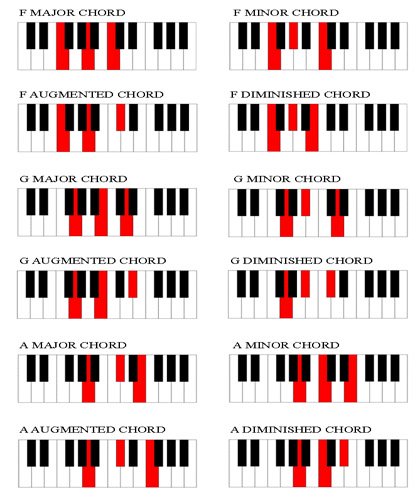 Subscribe to receive free piano lessons
E-zines and other updates!
The keys that are coloured in red on the chart above are those that you should play on your keyboard. It is very important that you listen carefully to the harmonic sound that is been created by each chord. This will help you to identify them easily when listening to different music.
David Sprunger's Chord Voicing Vault is an ideal musical software to use when listening to the sound of each chord highlighted on the chord chart above. I recommend that you use it from time to time.
Practicing piano chords can be very exciting, and so I must encourage you to use them in some simple songs as soon as you are able to play them fluently on your piano.
There are several lessons on the internet that can help you in applying these chords in music. You can visit youtube.com and search for some but make to choose the video lessons that quality information.

Leave chord chart page and return to home page!