Free Piano Lessons | Gospel Piano Tutorial

If you are looking for free piano lessons especially gospel piano tutorials, then you have come to the right page. On this page you will be learning to play "God Will Make a Way" by Don Moen. 
I must assume that you already know how to play basic major and minor chords on your piano. If not, I would advise you to visit the piano chord lessons prepared free of cost for you on this website.
Why should you know piano chords for this lesson?
This lesson like any other chord piano tutorial is design to teach students how to use chords to accompany a specific song.
Click on any of the topics below and start learning how to play chords on your piano.
Piano Chords Lessons
2) Major Chords Theory –Forming and playing them on the piano
3) Playing Minor Chords on the Piano
6) Playing Slash Chords on the Piano
Now, it is time for you to get involved in our special piano tutorial.
Lyrics for "God Will Make a Way"
God will make a way
Where there seems to be no way
He works in ways we cannot see
He will make a way for me
He will be my guide
Hold me closely to His side
With love and strength
For each new day
He will make a way
He will make a way
By a roadway in the wilderness
He'll lead me
And rivers in the desert will I see
Heaven and earth will fade
But His Word will still remain
And He will do something new today
The diagram below shows the chord progressions that you will use for the song "God Will Make a Way". Be sure to analyse the entire piece first before you start playing. You will also find a chord chart below that you can use to assist you.
The key for this tutorial is G Major, but the verse has a few accidentals. Don Moen originally starts this song in the key of F major and then modulates to the key of G.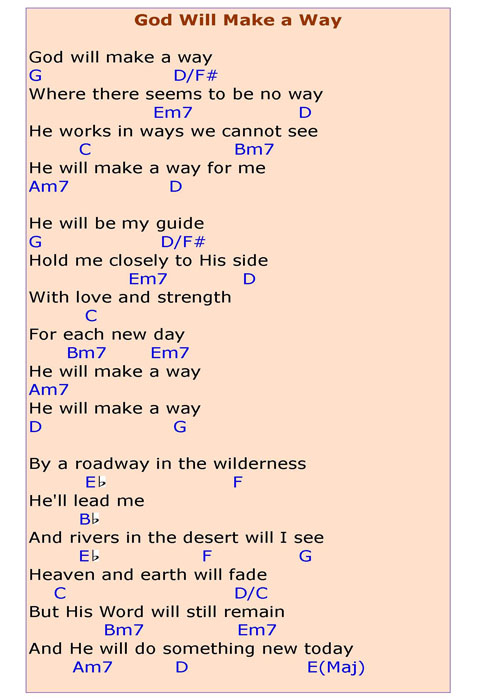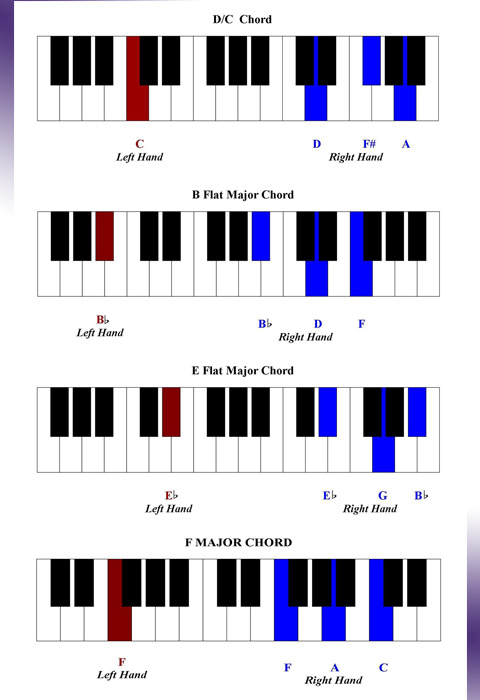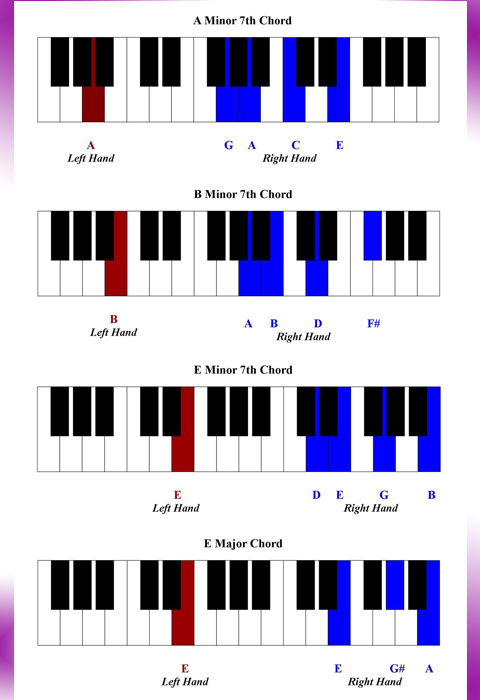 More free piano lessons/tutorials on this website!
Blessed be the Name of the Lord - Don Moen
Piano Melody Tutorials
Kids Songs - Simple Kids Melodies

Leave the free piano lessons page and return to home page!
Subscribe to receive free piano lessons
E-zines and other updates!